About RADE
The Regional Aerospace and Defense Exchange (RADE) is funded through a federal planning grant awarded to the State of Connecticut by the U.S. Department of Defense, Office of Economic Adjustment (OEA) to support and strengthen the region's aerospace and defense industry.
Why RADE? Since the defense industry is a major contributor to the New England economy, changing priorities in the DoD budget pose strategic planning challenges for local governments, defense contractors, and their supply chain across the region. State stakeholders need in-depth knowledge and an inside perspective of defense contracting activity in order to address these uncertainties, leverage and foster beneficial relationships, and align regional assets.
What will RADE do? RADE was established to support a robust regional aerospace and defense community by centralizing accurate and timely data collection and analysis, providing a dissemination of resources, and best practice models. The community is based on collaboration among key partners -- including government, academia and the private sector -- and providing an effective communication platform among stakeholders including employers, colleges, and workers.
Members can...
Collaborate with industry, education, workforce development and government agencies to share information, technologies, and workforce resources social network mapping.
Access supply chain contract spending and analysis data.
Obtain timely information and the latest research.
Interact with targeted resources based on affiliation and interests, and cross-link opportunities with potential partners and collaborators.
About The Commons
The concept of "The Commons" harkens back to New England's history as shared town lands provided a benefit to the entire community. Industrial Commons takes this concept further by establishing a common gathering place that fosters collaboration and supports the sharing of knowledge and capabilities within a sector or region.
In the same way, The RADE Industry Commons does not belong to any one person, group or entity, but has been established as a benefit to be shared by all in our aerospace and defense community. It functions as a virtual presence to facilitate networking and communication for the New England aerospace and defense community. The portal is a repository for resources and tools, and a platform for regional collaboration among partners and stakeholders across the states.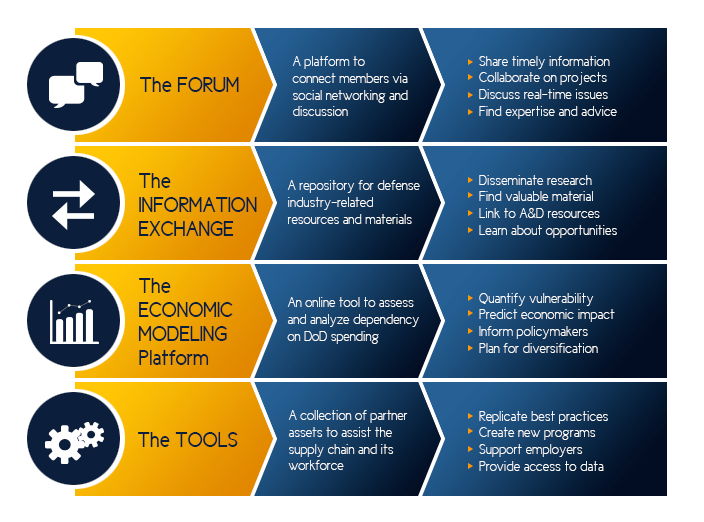 Join RADE now to access the resources and benefits the Exchange offers.
Membership is FREE.
---